Ramsey swing bridge to remain closed until March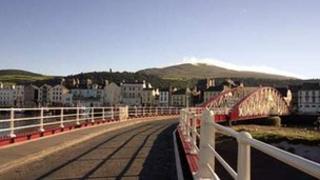 Ramsey's 120-year-old swing bridge will remain closed until March for urgent repairs costing £750,000, it has been announced.
It had been expected to reopen by Christmas but the Department of Infrastructure said its internal condition was "worse that expected".
The Victorian bridge, built in 1892, is used by both cars and pedestrians to cross the River Sulby.
Minister David Cretney said the work will "secure the future of the bridge."
He added that the work was essential to "avert a major failure."
According to the Department of Infrastructure the project will now take six months to complete.
A spokesman said: "During the opening up and dismantling of the structure it became clear that operating mechanism is worse than was expected.
"This has resulted in the need to undertake additional works to the stone pier and a re-appraisal of the works required to repair the operating mechanism".