Manx chief in Flybe talks over hospital link concern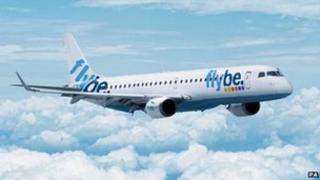 The Isle of Man's chief minister has met with the head of airline Flybe amid concerns about the future of Manx hospital links with Liverpool.
The firm is looking to close six bases, including the Isle of Man to save £85m over the next few years.
It currently operates the Isle of Man's patient transfer service to Liverpool, carrying about 13,000 people a year.
Allan Bell said the arrangement, worth about £1.6m a year to the airline, may make Flybe's management "think again".
"[Chief executive] Mr [Saad] Hammad has a very clear idea of our position and he has gone away now to look at a number of possible ways that we might be able to work together to ensure that some of the targets at least are met," he said.
"He made it clear that no final decisions had been made with regards to redundancies or the routes that Flybe plans to operate in the future."
The government said decisions about the island's patient transfer service are expected to be made within the next two weeks.
Flybe have said that they remain fully committed to services to the Isle of Man and are reassuring passengers that they can continue to book with confidence.
Earlier this month, the company reported pre-tax profits of £13.8m for the six months to 30 September, compared with a loss of £1.6m a year earlier.
Flybe cut 490 jobs in 2012-13, with a further 100 going in the first half of 2013-14.