Mount Murray fire: Owner Albert Gubay 'heartbroken'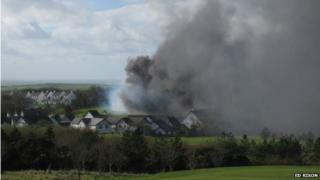 An Isle of Man hotel owner has said it was "heartbreaking" to hear part of his building had been destroyed when a major fire broke out on Thursday.
Around 50 people were evacuated from the Mount Murray Hotel and Country Club in Santon when an accommodation block caught fire out at about 10:30 GMT.
Owner Albert Gubay, told Manx Radio, it was "heartbreaking to hear".
It is expected to cost several million pounds to rebuild the accommodation block.
Mr Gubay said: "I haven't been allowed inside the buildings yet but it looks like a major rebuild."
Declared unsafe
Chief Fire Officer Kevin Groom said members of the fire service are working with scenes of crime officers and the health and safety inspectorate to establish the cause of the fire.
Mr Groom said: "Quite clearly we have to identify and rule out a number of options.
"We will be there on Friday and possibly a few more days as people may need to use our appliances to take aerial shots of the damage."
Mr Groom said his officers remained at the scene until around 22:00 GMT on Thursday using thermal image cameras to identify hotspots.
According to Mr Groom the accommodation block has been declared unsafe by the health and safety directorate and building control.
'Flames pouring out'
On Thursday Manx Radio reporter Tim Glover said there were "flames pouring out of the building" and that the fire "spread rapidly".
An eye witness living on the Mount Murray estate said: "It went up like an inferno, the whole of the roof was on fire within minutes."
A spokesman from the island's health department confirmed that only one casualty, with minor injuries, was taken to hospital.
Inspector Mark Britton from the Manx constabulary said all emergency services on the island pulled together to deal with the fire, including a fire engine from the airport.
He added: "We will be conducting a full investigation into the incident."
Brian Stowell, technical director of the hotel, said: "I can't say definitively how it started.
"Now everyone is safe, our priority will be to try and get the events part of the hotel opened again - we have weddings and other events booked."