Ferry firm 'committed' to employing Isle of Man workers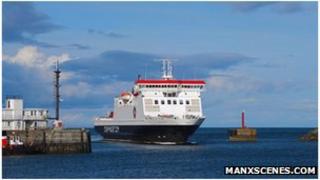 Operators of a new ferry service said they are committed to employing Isle of Man workers, amid union concerns about "low-cost foreign crews".
The Ellan Vannin Line, owned by island-based Sea Alliance, confirmed it also hopes to register its vessel locally.
RMT union representatives said the competition could threaten more than 300 jobs at the Steam Packet company.
Sea Alliance head Kurt Buchholz said a recent survey showed that Isle of Man residents wanted more choice.
The company plans to introduce a cargo and passenger service next year, which would be the only alternative to the service currently offered by the Steam Packet company.
Shipping 'scavengers'
But general secretary of the National Union of Rail, Maritime and Transport Workers, Bob Crowe, said: "No-one should underestimate the scale of the latest threat to services, jobs and working conditions that is posed by this latest aggressive attempt to undermine the Isle of Man Steam Packet.
"This is not the first time scavengers have attempted to exploit this life-line ferry route and they will be met with the stiffest possible joint resistance from the trade unions and the local community where the decent jobs and conditions on the Steam Packet are an integral part of the local economy."
In response, Mr Buchholz said: "Beside the inappropriate language, we are concerned that this a desperate attempt [by the Steam Packet company] to seek support from unions and the Isle of Man government with an anti-competition campaign."