Public to name new Isle of Man electoral constituencies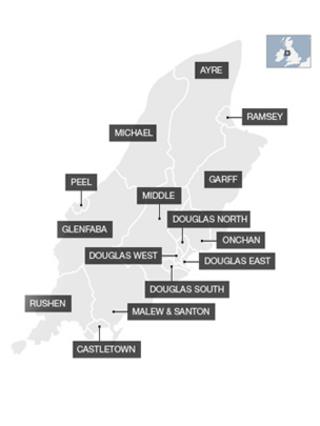 Isle of Man residents have been invited to suggest names for the 12 newly formed island constituencies after an electoral boundaries overhaul.
Plans to reduce the amount of constituencies from 15 to 12 were given Tynwald approval in July.
The changes, put forward by the Boundary Review Commission, will mean more equal political representation.
Each of the 12 island areas are to be represented by two political members of the House of Keys.
The current system is based on 15 constituencies, with Rushen and Onchan having three political members while the four Douglas constituencies and Ramsey have two.
Ayre, Castletown, Garff, Glenfaba, Michael, Peel, Malew and Santon, and Middle all have one.
The changes, which will be in place for the next general election in 2016, mean an end to a system in which some Manx residents get three votes and others get just one.
Initial name suggestions include Douglas Central (for Albany, Ballabrooie, Eastfield, Quay, St George's, Somerset and Tynwald, plus part of Garden City) and Middle (for the current Middle constituency plus the parish of Santon).
A government spokesman said name suggestions must be made via the chief secretaries office before 7 October.