Three people rescued from stricken yacht off Manx coast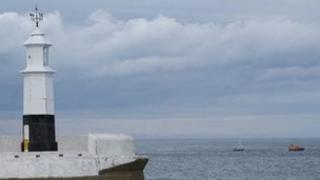 Three people have been rescued after their 30ft yacht broke down three miles off the Isle of Man coast.
Ramsey's lifeboat crew rescued the crew, who were sailing from Peel to Whitehaven on Thursday, after they got into difficulty near the Point of Ayre.
The Mersey class RNLI lifeboat located the crew three miles north-east of Ramsey before towing them back to Ramsey harbour.
An RNLI spokesman confirmed that no-one had been injured.
The skipper had made a distress call to Liverpool Coastguard when a bolt came loose which held the yacht's mast in place.
The Douglas lifeboat crew were also called into action on Thursday when a fishing vessel with four crew on board got into difficulty four miles east of Douglas.
The boat was safely towed back to Douglas harbour by the Sir William Hillary.