Isle of Man considers Isle of Wight energy plan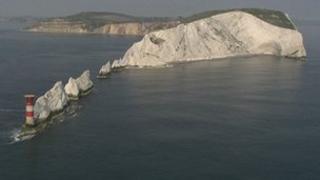 Representatives from the Manx government will visit the Isle of Wight, as part of plans to make the Isle of Man energy self-sufficient.
The Isle of Wight launched the Ecoisland Partnership in 2008 which aims to make the region the first sustainable place in Britain.
The project includes plans to harness tidal and geothermal power.
Dr Ken Milne, from the Manx government, said the Isle of Man was looking to implement a similar scheme.
Some of its work includes creating a "food hub" to collect and distribute locally produced food and achieving zero waste to landfill.
Member of the House of Keys, Richard Ronan, said: "'We want to hear about the lessons learned by the Ecoisland Partnership and, where appropriate, implement similar projects in the Isle of Man.
"A great deal has been achieved in the Isle of Man already but we need to explore further ways in which to use our environment sustainably, reduce our dependency on imported energy and improve our economic competitiveness."