Man water skis from Northern Ireland to IOM for charity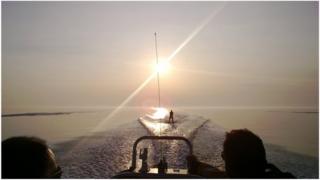 A man has raised more than £1000 for a Manx cancer charity after water skiing from Northern Ireland to the Isle of Man earlier this month.
Neil Collister, 35, said the 31.5 mile challenge was "by far the hardest thing he has ever done".
The Port Erin man took just over five hours to complete the journey from Ardglass to Port Erin.
The Isle of Man Harbours worker took on the challenge after losing two colleagues to cancer.
He said: "It was really difficult but I knew why I was doing it and I just kept going. I have never been so glad to arrive home."
His close friend Chris Callow drove the boat. He said: "It is an amazing achievement. He hadn't water-skied for two years before the challenge."
A spokeswoman for Manx Cancer Help, which will celebrate its 30th anniversary this year, said: "We were absolutely delighted that Neil took on such a wonderful challenge to help us.
"What he has achieved in incredible and the money will be spent wisely and do a lot of good."
The charity whose patrons include singer Katie Melua and her husband James Toseland are appealing for anyone who wants to take a on a challenge to approach them to help celebrate their 30th anniversary.
Manx Cancer Help was formed in 1983 by a group of people who had close personal experience with cancer or caring for cancer patients.
The challenge was not recognised by Guinness as they don't recognise place-to-place records.