Isle of Man baby Aalin shares birthday with future king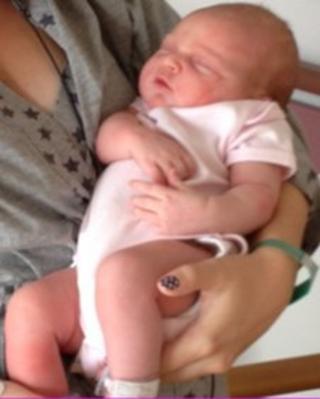 Newborn Aalin Cowley is one of three Manx babies born on the same day as the future King of England.
Born on 22 July, Aalin also weighed in at 8lb 6oz, exactly the same weight as the royal baby who is yet to be named.
The Duchess of Cambridge's baby boy, who is third in line to the throne, was born at St Mary's Hospital in Paddington, West London.
Aalin's mother, who is also called Kate, said she went into labour at around the same time as the duchess.
She added: "My little baby was obviously waiting for the news that the prince was on his way.
"There was quite a lot of people around and they were all trying to guess about how much Aalin would weigh and it was really exciting to find out she was exactly the same weight as the prince - it's very special."
A hospital spokesman said four babies were born at Noble's hospital in the Isle of Man on Tuesday - one boy and three girls.
Each child will be presented with a Manx tartan blanket.