Scotland First Minister Alex Salmond to visit island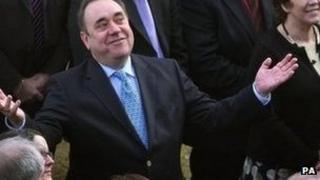 Scotland's First Minister, Alex Salmond will visit the Isle of Man later.
A government spokesman said Mr Salmond will give a talk at the Villa Marina in Douglas to an audience of 200 people.
He will meet the Chief Minister, Allan Bell who said: "Scotland is the island's nearest neighbour geographically and the two countries have strong historical and cultural connections.
"We have been watching developments in Scotland with considerable interest."
He added: "I am looking forward to learning more about Mr Salmond's aspirations for the future."