First islanders benefit from 93-year-old's £1m gift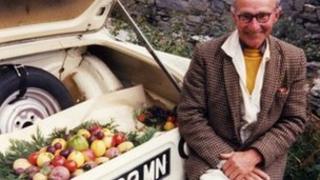 The first major grant has been awarded from the Donald Collister Heritage Programme, established when a 93-year-old man left a £1m bequest.
Colby resident John Donald Collister left his entire estate to the Manx nation following his death in 2007.
A consultation was launched by Manx National Heritage (MNH) to see how the public would like the money spent with 114 suggestions put forward.
The first grant of £24,000 was awarded to a festival in Mr Donald's home town.
The Laa Columb Killey Committee will use the money to buy a new exhibition tent for the island's longest running parish fair.
'Wishes and interests'
A Manx National Heritage spokeswoman said it was the "largest ever donation they had received".
She added: "Discussions are continuing with a number of people in the Arbory community to ensure the bequest would be used in a way which reflected Donald Collister's wishes and interests."
According to MNH the consultation concluded that the money should be used to deliver a strong sense of community benefit, both on a national and local scale.
Chairman of Laa Columb Killey Ron Strathdee said: "We are delighted to see the legacy of Donald Collister being recognised for the benefit of his local community.
"Donald was a keen exhibitor of the horticultural display and supporter of Laa Columb Killey in the past."
Mr Collister worked as a painter after serving with the Manx Regiment in Crete and north Africa during World War II.
MNH first became aware it had been mentioned as a beneficiary in 2011.
The Manx Museum and National Trust will be making further announcements over the summer to confirm how future grants will be allocated.