Health warning follows Isle of Man hotel chemical spill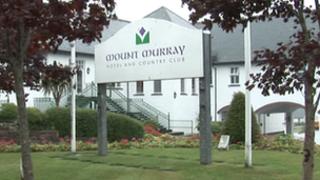 People exposed to harmful gases during a "chemical spillage" at an Isle of Man hotel have been advised to get a medical check-up at A&E.
Three people were taken to hospital on Tuesday after the incident at the Mount Murray hotel swimming pool in Santon.
The Department of Health said all guests and staff who were exposed to the chlorine gas should visit hospital as a "precautionary measure".
Symptoms of exposure include breathlessness and eye irritation.
The spillage was caused by a mix-up during chemical preparation at the hotel's swimming pool.
Precautionary check-up
A health spokesman said: "Exposure to chlorine gas can result in symptoms including breathlessness and irritation to the eyes and nose and chest tightness.
"Anyone suffering these symptoms within the next 36 hours should attend A&E for a precautionary check-up."
The department has contacted 10 of the people affected but was unable to contact others.
The Manx Fire and Rescue Service said crews attended the incident.
A spokesman confirmed three people were taken to Noble's Hospital "suffering from the effects of chlorine gas inhalation" and that no-one was seriously hurt.
"The area was made safe and ventilated before members of the public were allowed back in," added the fire service spokesman.