Three Isle of Man civil registry offices to close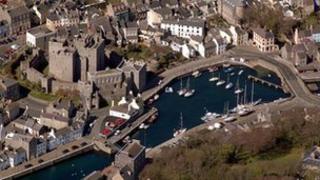 Three regional civil registry offices in the Isle of Man will close before March 2014, it has been confirmed.
Following the closures people looking to register births, deaths, civil marriages and civil partnerships will have to do so in Douglas.
Carol Dowd, director of public services in the General Registry, , said the move is part of an "ongoing programme of modernisation".
All staff have been informed although it is not clear if jobs will be lost.
The office in Ramsey Town Hall will be the first to close in September, followed by Castle Rushen in December and Peel in March.
Mrs Dowd said the move followed legislative developments and would modernise their service.
In 2011, an amendment to the Civil Registration Act, meant births, deaths and marriages no longer had to be registered in the district in which the event occurred.
The Civil Partnership Act was introduced the same year meaning same-sex couples could apply to hold their civil partnership ceremony at any location in the Isle of Man.
At the same time the Marriage Act 1984 was amended.
Mrs Dowd added: "The implementation of these legislative changes has provided equality for all as well as driving forward the modernisation of a service that has not always kept up with the pace of change over the last 20 years.
"The centralisation of our registration service is the next logical step.
"Although the changes will result in some cost savings, the primary driver has been the need to modernise our service".