Isle of Man benefit system unsustainable, says minister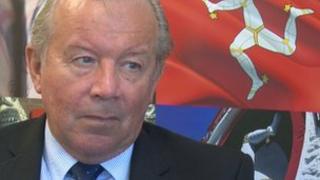 The Isle of Man's current welfare system is "no longer sustainable," the social care minister has said.
Chris Robertshaw has proposed a number of changes to the benefit system designed to reduce long-term unemployment.
He said "we need to address our long-term issues" and that the system should not create welfare dependency.
The proposals will be brought before Tynwald before the end of the year.
According to government statistics, 1,056 people are registered unemployed with around a fifth (196) registered as having been jobless for longer than 12 months.
The new proposals combine a tougher system for jobseekers who are "not doing all they are required to" when claiming Jobseekers' Allowance (JSA) together with the provision of "new opportunities" for the long term unemployed.
'Quite obscene'
These include the provision of training and help with work experience through placements with Social Enterprises.
Benefit provisions will also be reviewed and rebalanced where necessary to ensure jobseekers are not financially penalised when they take up work.
Mr Robertshaw MHK said: "The way we currently provide our social welfare is no longer sustainable. We must ensure that our systems do not create any form of welfare dependency and that meaningful support is available.
"I think it is quite obscene to have some one in a position where the state in paying them benefits to do nothing."
Social enterprise work placements will only be made available to claimants who have been on JSA for more than five months.
The government is also considering proposals to increase the minimum wage by 20p to £6.40 an hour, from October 2013.
Mr Robertshaw added: "We have to change the way people think and act over unemployment.
"We are fundamentally changing our thinking and the way we are acting. With these proposals and the minimum wage increase - we are making sure it doesn't pay to be off work."