Isle of Man Queenie festival returns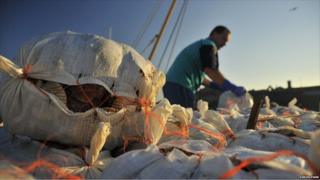 The annual Queenie festival will take place over two days in the south of the Isle of Man this weekend.
The festival, which takes its name from the Queen Scallop, is centred around the Alfred Pier on 29 and 30 June.
The event, now in its fifth year, was set up to celebrate the sea with the aim of bringing together everyone with an interest in marine life.
It is held in the fishing village of Port St Mary and involves water sports, cookery demonstrations and live music.
The Queen Scallop (aequipecten opercularis) is a bivalve mollusc which can grow up to 9cm in diameter and is found at depths of 100 metres. It feeds on plankton and swims by squirting jets of water.
It is one of the Isle of Man's most popular exports, with local producers supplying to a number of top restaurants in the UK.