Isle of Man TT: Mountain Road converts to one-way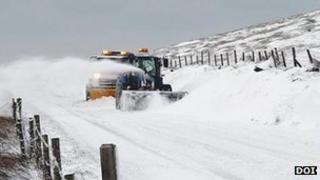 The Isle of Man's Mountain Road will again be converted to one-way for the duration of the TT fortnight.
The route between Barrule Park and the Creg-ny-Baa will be closed until 16:30 BST when it will re open as a one-way road until 10 June.
The system was introduced for the 2007 races as a safety measure to reduce the likelihood of head-on collisions.
Motorists are urged to "drive carefully" on the Mountain Road and to "comply with the posted speed limits".
A Department of Infrastructure (DOI) spokesman said: "We would urge drivers to avoid excessive speed on derestricted sections and show consideration for other road users".
The event's opening practice session will start at 18:20 on Saturday.
The Department's road teams have been working on the TT course for the last fortnight, repairing more than 300 faults raised by Auto-Cycle Union (ACU) representatives, following March's heavy snowfall.
The Hairpin, the Bungalow and the Gooseneck all needed repair work to bring the surface up to race standards.
Director of highways Richard Pearson said the work cost in the region of £200,000.
On some parts of the TT course, racers will exceed speeds of 200 mph.