Isle of Man bus strike: Casual driver appeal ahead of walkout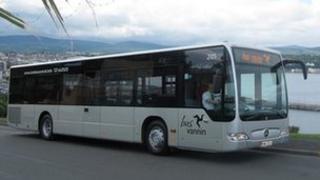 Casual bus drivers are being recruited on the Isle of Mann ahead of a proposed 12-day strike.
The Department of Community, Culture and Leisure (DCCL) is looking for drivers with Public Passenger Vehicle (PPV) licence to help out between Saturday 25 May and Wednesday 5 June.
The walkout over pay and conditions will be the fifth since December.
Eric Holmes, from the union Unite, said the dispute was about "unreasonable" timetable expectations rather than pay.
Bus Vannin, run by the DCCL, has been affected by government cuts and is aiming to save about £1m a year.
A series of cost-saving measures were implemented when the UK brought an end to a VAT sharing agreement, which left a £75m-a-year hole in the island's income.
Minister for Community, Culture and Leisure, Graham Cregeen said: "Striking will not change the necessity for the department to meet its financial obligations.
"It only further reduces drivers' pay and targets the most vulnerable members of our society."
The proposed strike will coincide with the Isle of Man TT races and GCSE and A-Level students examinations.
More than 1,200 people have joined a group on Facebook designed to help people get around during the strike.
A spokesman for the DCCL said stand-in drivers will be paid the same rate as normal bus drivers - £12.68 per hour from Monday to Friday and £19.02 per hour at weekends.
"We are looking for as many casual bus drivers as possible to assist during the strike.
"We have a special recruitment process in place which will include health checks and full training."
Anyone able to help can register at the Villa Marina in Douglas between 14:00 BST and 20:00 BST on Tuesday.
Drivers are asked to bring their PPV license to register. Licence holders have already been through police checks.