Isle of Man TT campaign collects tonnes of rubbish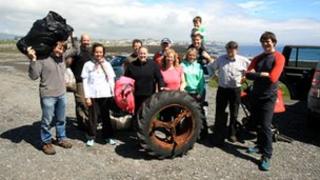 More than two tonnes of rubbish has been collected during a week-long litter campaign ahead of the Isle of Man TT races.
The project, organised by volunteer group Beach Buddies, targeted parks, glens and areas of coastline.
Founder Bill Dale said it was a "fantastic effort", which had made a "noticeable difference."
The group, which has more than 1,000 volunteers, plans to replicate the idea ahead of other major tourism events.
Mr Dale said: "This was a fantastic effort by everyone and it has made a really noticeable difference to various paths and roads close to the TT course, as well as some of the island's beauty spots, which are so popular with our visitors".
The places cleaned up included Langness, Braddan, White Bridge, The Sound, Ramsey Beach, Port Erin, Fenella Beach and Scarlett.
More information is available from the Beach Buddy Facebook page.