Chief Minister defends Isle of Man's tax status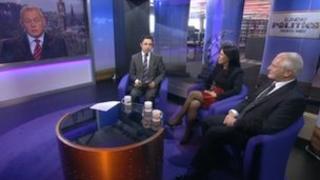 The Isle of Man's Chief Minister has defended the island's work against tax evaders as international pressure mounts on overseas territories.
On Monday UK Prime Minister David Cameron wrote to 10 British overseas territories, urging them to "get their house in order".
The island's chief minister Allan Bell said the Isle of Man has led the way in cracking down on tax evaders.
The UK is expected to push for tighter tax measures at June's G8 summit.
The 10 territories that received Mr Cameron's letter are Bermuda, the British Virgin Islands, the Cayman Islands, Gibraltar, Anguilla, Montserrat, the Turks and Caicos Islands, Jersey, Guernsey and the Isle of Man.
Mr Bell told the BBC Politics Show that there were evasion issues in the UK, US and Europe that needed tidying up and "not just in smaller jurisdictions".
'Bad luck guys'
"We have worked on these agreements internationally for well over ten years. We were the first small jurisdiction to commit to the automatic exchange of information of bank accounts to the European Union. That was voluntary and their was no debate going on at that point.
Earlier this year the Isle of Man signed tax sharing agreements with both the US and UK governments and more recently entered the "G5 pilot," which would enable automatic information exchanges with France, Germany, Italy and Spain, along with the UK.
UK Exchequer Secretary to the Treasury David Gauke said: "The net is closing on those people who have tried to evade taxes."
He added that the willingness and determination of the Isle of Man government to endure that they have a good reputation is "without doubt."
Isle of Man-based tax consultant George Sharpe said: "My guess is that anyone using the Isle of Man to evade tax will have pushed off several years ago but if there are any still left in the island it is bad luck guys."
The Isle of Man's Treasury Minister Eddie Teare said: "The work we have done over the last decade has already changed the perception of the Isle of Man.
"We are not a tax haven - we are a small international business centre."
The Politics Show is available on the BBC iPlayer until 18 June.