Isle of Man Methodist Minister denies homophobia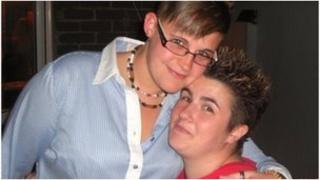 An Isle of Man Methodist Minister has denied being homophobic after refusing to rent out his house to a lesbian couple.
Keith Price from the Independent Methodist Church refused a tenancy application from Kira Izzard and Laura Cull because of their sexuality.
He claims his decision was based on his religious views and not prejudice.
"We are not homophobic but we do have a stance on the sexuality," Mr Price said.
He added: "We understood that they [Ms Izzard and Ms Cull] were not a family so we said we couldn't proceed [with the rental agreement].
"We believe that God has a plan for our lives within the context of marriage, the scripture is quite clear in its teaching on this."
After being refused the tenancy, Kira Izzard and Laura Cull, from Douglas, said they were shocked to discover there was no legislation on the Isle of Man to protect them from discrimination.
'Pockets of bigotry'
They launched an online petition, which has attracted more than 1,200 signatures calling for the introduction of the UK's Equality Act 2010.
Chief Minister of the Isle of Man, Allan Bell said: "I am extremely disappointed that this type of ugly, outdated prejudice survives after all the work that has been done over the past 20 years or so to make the island a more tolerant place.
"I do believe our society today is generally much more tolerant than it used to be. But this incident shows there are still isolated pockets of bigotry that can only be tackled through legislation.
"An Equality Bill, based on the UK Equality Act 2010, is already in the drafting process and will deal with discrimination of this kind. I have asked that preparation of this legislation be accelerated."
Kira Izzard said she was relieved to hear about Mr Bell's reaction.
She added: "I am over the moon to know that people are taking this seriously- the chief minister has said he will move the legislation on and we believe him, we have no reason not to."