Isle of Man police appeal for 'respect' during TT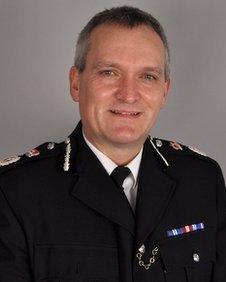 People will die unless road users "drive with respect" during the TT festival, Isle of Man police say.
The event, which attracts thousands of bikers to the island every year, will take place between 25 May and 7 June.
As part of the annual road safety campaign, island police are also asking visiting bikers to remember they are not professional riders.
Chief Constable Gary Roberts said: "It is critical this message gets through, if it doesn't sadly people will die."
During each TT festival fortnight, Manx police said they dealt with about 100 road accidents. The number of fatalities varies from year to year.
"The challenge for people is not to get carried away,," said Mr Roberts.
"We are appealing for safe driving from visitors but also from the people who live here - they need to respect our visiting bikers, look out for them and not make rash judgements on the road.
"If everybody shows respect for each other we will have a safe TT and that is my aim."
A number of modifications to the roads will come into force for the duration of the festival to improve safety.
There will be an increased police presence and a one-way system is introduced on the Mountain Road.
"This system is a good thing for safety but we do have to make sure people understand that it does not mean the road is a race track. It is still a public road," added Mr Roberts.
"This is the island's busiest time of year and while the constabulary has a wonderful continuing relationship with our TT visitors, they need to know if they ride badly, we will catch them."