Sefton deal: Committee to review multi-million pound deal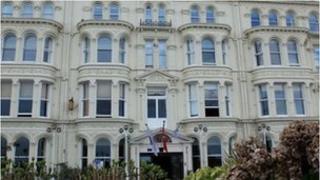 The Manx government's multi-million pound deal to bail out the Sefton hotel group will be reviewed by Tynwald's Economic Policy Review Committee.
The £4.5m rescue package includes a £1.3m loan, plus £3.2m to buy land in Douglas earmarked for development.
According to the committee's chairman Leonard Singer MHK, they have already written to the Manx government asking for written evidence.
Mr Singer said there was "significant public interest" in the review.
He said: "The Chief Minister wrote to the committee asking it to enquire into this matter in the light of the significant public interest in the decision to support the Sefton Group.
"We have written to the government asking for them to explain the decision and, in the light of their evidence, we will be making further enquiries and collecting written and oral evidence.
Mr Singer added that the Committee would "welcome evidence from the public in due course."
In addition to the loan, the government has paid £3.2m for the Middlemarch site in Douglas to lease to the Sefton group for development.
According to Michael MHK Alf Cannan, the multi-million pound bail out has "angered" the Isle of Man's business community.
'Direct interference'
Alf Cannan said the move was a "direct interference in the free market and blurs the ground rules for fairness".
He added: "This has made people angry, not least of all because other companies are going through difficult times too."
Treasury Minister Eddie Teare said the decision was centred on maintaining confidence in the island's economy.
He said: "We are coming through a difficult time and I don't want to run the risk of adversely affecting business and consumer confidence."
The Sefton Group PLC is a Manx company which owns the Sefton and the Palace Hotel Casino on Douglas promenade, along with the Sefton Express hotel near Ronaldsway airport.
It is thought the group, which employs about 300 people, is currently facing debts of about £1.7m - much of which is believed to be owed to a range of island businesses.
Chief minister Allan Bell said that the intervention was "unusual". He said the public was not notified in advance of the move.
He added: "The council of ministers does recognise the need for proper scrutiny of government's actions in the public interest, and so we are ourselves referring this issue to Tynwald's Economic Policy Review Committee for their consideration."
The Economic Policy Review Committee, a standing committee of Tynwald, is made up of Leonard Singer MHK, Howard Quayle MHK and Dudley Butt MLC.
A government spokesman confirmed the committee will next meet on the 15 May to discuss their initial findings.