Isle of Man ferry collision: Ben-my-Chree back in service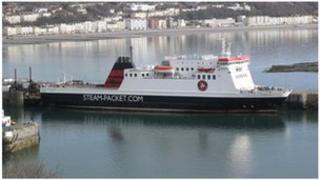 An Isle of Man ferry which underwent emergency repairs after colliding with a berthing fender in Douglas on Wednesday is back in service.
The Ben-my-Chree suffered damage approximately four metres above its water line but no passengers were injured.
The ferry was docking from Heysham when it hit the fender at about 17:45 BST on Wednesday.
The Steam Packet Company has launched an internal investigation.
The repaired ferry sailed freight to Heysham at 10:00 BST. Remaining services to and from Heysham were expected to sail but with some delays.
'Assess damage'
The Isle of Man Steam Packet Company said they had made every effort to contact affected passengers and freight customers.
Chief Executive Mark Woodward said: 'We managed to effect the temporary repairs sooner than expected, which enabled her to operate a freight-only service to Heysham this morning.
"At this stage, we do not expect there to be any impact on the Ben's (Ben-my-Chree) schedule during TT fortnight."
Mr Woodward added: "We will continue to work with the Department of Infrastructure to assess damage to the seaward berthing fender on the King Edward Pier and what is required in order to bring the berth back into operation, pending permanent repairs."
A revised schedule can be found online.