Isle of Man ferry hits berthing fender at Douglas harbour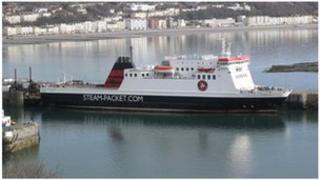 An Isle of Man ferry is undergoing emergency repairs after colliding with a berthing fender in Douglas.
A spokesman for the Isle of Man Steam Packet Company said no passengers were injured in the incident on Wednesday evening's sailing from Heysham.
The Ben-my-Chree was damaged approximately four metres above its water line and is currently undergoing repairs.
An internal investigation has been launched and two services cancelled.
The spokesman said it is hoped the ferry will be repaired before the 19:45 BST sailing to Heysham.
Steam Packet Chief Executive Mark Woodward said: "We are working with the Department of Infrastructure to assess the damage and whether this will impact on the Ben's (Ben-my-Chree) sailings from that berth.
"It is too early to say how long it will take to repair. We will, of course, be launching an internal investigation into the incident".
The company said it had made every effort to contact affected passengers and freight customers to advise them of these alternative arrangements.
Passengers booked to travel on the Ben-my-Chree later will be transferred to the scheduled Manannan sailings to and from Liverpool and subsequently taken to Heysham.
Since the collision the ferry been moved to the Douglas Bay side of Victoria Pier.