Jobs go in Isle of Man abattoir cutbacks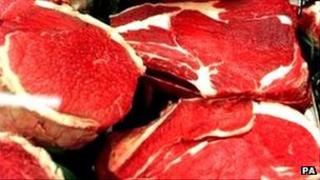 Twelve jobs are to be lost at the Isle of Man's abattoir.
Isle of Man Meats chief executive, John Dawkins, said the redundancies were essential to help make the plant commercially viable.
He said: "It is the last thing on earth I want to do but throughput has dropped by 20% and we have to take action."
Last year the government invested £713,463 in the plant and this year the figure could rise to £1m, according to the island's Agriculture Minister.
In this week's House of Keys Phil Gawne announced further assistance may be required due to the effects of the recent heavy snowfall on the island's farming community.
More than 14,000 sheep and lambs and 700 cattle died during the worst March snow the island has witnessed in 50 years.
Mr Gawne said his officers are working with Isle of Man Meats to establish a suitable level of support for the plant in 2013-14, which he estimates to be in the region of £800,000 to £1 million.
But he claimed job losses were an "inevitable consequence" of a difficult time for the meat industry in general.
He added: "I believe our current policy to support the existing plant is appropriate, acknowledging Isle of Man Meats' vital role in our Manx food chain".
According the Mr Dawkins the plant will now have one multi-skilled team who will be able to carry out the whole slaughtering process.
He added: "We have to run a commercially viable outfit."