Tower of Refuge walk 'attracts thousands'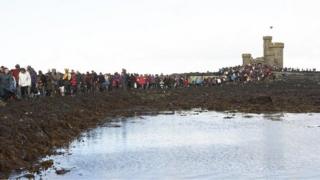 Around 3,000 people have taken part in a guided walk to the Isle of Man's Tower of Refuge in aid of the Royal National Lifeboat Institution.
The tower, built on Conister Rock in Douglas in 1832, was the idea of the RNLI founder, Sir William Hillary.
It was originally built as a refuge for sailors after the semi-submerged rock caused a number of shipwrecks.
Mike Howland of the Douglas RNLI said: "It was fantastic to see so many people showing such interest."
The event in its second year raised more than £2,500.
According to Mr Howland it is only possible to walk to the tower during the Spring and Autumn low tides and people should not attempt to reach it on their own.
Douglas Development Partnership's Chris Pycroft, who organised the event, said: "We were blown away by the take up. We expected a few hundred people to show up the first year and a thousand came along.
"This year we thought the interest may stay the same but it trebled. The tower is a bit like the moon - you see it every day but can't get to it.
"We had people in their 80s who had lived in the island all their lives but never been."
Mr Pycroft said he hopes it will now become an established annual event.
In 2016, Douglas will receive one of the RNLI's new Shannon class lifeboats and Mr Howland said the money will be a "massive help."
He said: "People have been very generous and the money raised will help to save lives."