Tower of Refuge walk 'could attract more than a thousand'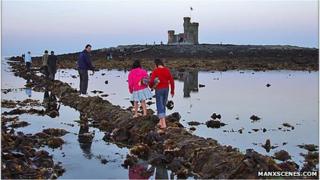 More than a thousand people are expected to take part in a guided walk to the Tower of Refuge in aid of the RNLI, the Douglas Development Partnership (DDP) has said.
The tower, built on Conister Rock in Douglas in 1832, was the idea of Sir William Hillary, founder of the Royal National Lifeboat Institution (RNLI).
DDP's Michelle O'Malley said wellington boots or walking shoes should be worn.
The guided walk is expected to begin at approximately 17:00 BST on 26 April.
"There is no fee to take part in the walk but if people would like to make a donation all proceeds will go to the RNLI," Miss O'Malley said.
"There will probably be a constant stream of people walking out to the tower for about three hours, that is how long it took last year."
The tower was designed as a shelter for the crews of vessels which were wrecked on the nearby reef.
Sir William Hillary, who launched an appeal in 1824 that led to the foundation of the RNLI, was a member of the Douglas lifeboat crew.