Sefton Group group bail-out deal 'biased'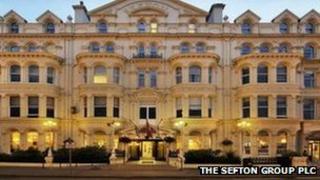 A multi-million pound bail-out to save a hotel group is "biased and unfair", according to a rival hotel chain.
Last week the Manx government announced a rescue package for the Sefton Group PLC, totalling more than £4.5m.
The package includes a £1.3m loan plus an additional £3.2m to buy a Douglas site earmarked for development.
Managing director of Sleepwell Hotels Mark Wilson said the move "creates a biased and dysfunctional commercial environment, with unfair competition."
He added: "This makes it extremely difficult, if not impossible, for Sleepwell Hotels to trade profitably in the future.
"The Sefton Group is now free, with its government support, to undertake a policy of anti-competitive discounting and uncapped re-investment secure in the knowledge the government will have to support its underwriting."
The Sefton Group PLC is a Manx company which owns the Sefton and the Palace Hotel Casino on Douglas promenade, along with the Sefton Express hotel near Ronaldsway airport.
'Job losses'
Sleepwell Hotels operates The Rutland, the Claremont and the Chesterhouse Hotels - all on Douglas promenade.
Chief Minister Allan Bell said: "If the Sefton Group was to cease trading, this could result in many job losses as well as substantial losses to many local creditors, including government, which could lead to further job losses.
"The Sefton Group typically employs over 300 people directly and spends over £7m annually in our economy.
"Government had a clear choice - to sit back and allow the Sefton recovery programme to falter at a time when the domestic economy is already vulnerable, or play a small but decisive part in bringing it to fruition.
"We have a duty to support the economy, and that includes assisting business recovery when a favourable outcome can be demonstrated."
A government spokesman said the bail out has been given under the Enterprise Act which provides the Sefton Group with a loan of £1.3m repayable after five years.
The remaining £3.2m has come from the Treasury's Land Acquisition Reserve to buy the Middlemarch site which will then be leased back to the group over the next five years.
The Middlemarch site is located between Walpole Avenue and Fort Street in Douglas.