Isle of Man TT: Homestay registrations 'down'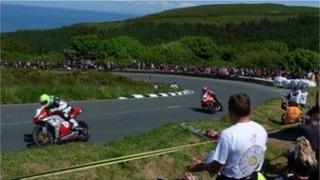 Less than half the number of homeowners who joined the TT homestay scheme in 2012 have registered for 2013, the tourism department has confirmed.
Last year, about 800 homeowners let rooms to bike event visitors with 3,224 beds being taken up over the fortnight.
Head of tourism Angela Byrne said uptake for the scheme was "significantly down" with just 390 people registered so far.
Homeowners have been urged not to let their homes without registering.
Registration, which closes on 26 April, is £15 and householders are exempt from tax on up to £1,500 of earnings from paying visitors.
'Small claims'
Mrs Byrne said there were "several pitfalls" for the increasing number of people letting their homes without registering with the government scheme first.
She said: "Unregistered properties will not have the right insurance cover as all homes must inform their insurance company that they are taking paid guests for Homestay and also the fee covers them for public liability insurance.
"We have inspected properties where the owner is expecting six strangers to share a bathroom and sleep on inflatable mattresses. All our registered homes are inspected for their suitability, fire safety and cleanliness."
"Every year we are called out during TT fortnight to visitors who have booked and paid to stay in unregistered properties. We have heard of cases where they have taken the residents through the small claims courts in the UK to get their money back."
According to the tourism department all of the island's registered accommodation is already full.
Tourism's Nikki Salmon said: "We understand that all 5,260 bed spaces in hotels and bed and breakfasts are full and demand is high.
"We would like to hear from anyone who may have a spare room available and can offer guests accommodation on a bed and breakfast basis, or would consider rental of your entire property."
Accommodation can be offered during the TT for any number of nights between 25 May and 9 June 2013 and for the Festival of Motorcycling, which includes the Manx Grand Prix, between 17 August and 1 September.