Isle of Man signs military covenant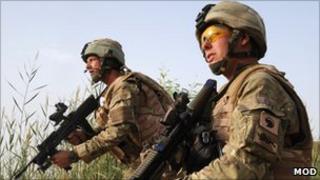 The Manx government has signed a military covenant to help ex-services personnel from the Isle of Man.
A spokesman said the proposals met with "overwhelming" support during a public consultation launched last year.
The covenant is described as "a voluntary statement of mutual support between a civilian community and its service personnel".
It sets out practical ways to support former soldiers when they leave the forces and return to the island.
It is estimated there are more than 200 people from the Isle of Man serving in the regular armed forces and about 65 in the reserves.
In addition there are thought to be about 3,500 veterans living on the island.
Charles Wilson, from the Royal British Legion, said: "This is a firm undertaking by the Manx government to look after our military personnel and it will help remove some of the barriers faced by returning service men and women.
"Life can be difficult and re-socialisation can be tricky. Some people suffer from post-traumatic stress disorder and if we get a case like this in the Isle of Man this covenant will help us deal with it efficiently."