Isle of Man stamps celebrate national symbol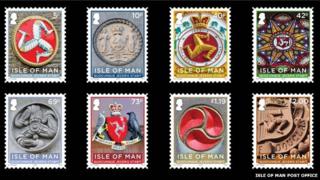 Isle of Man Post Office has issued a set of stamps in celebration of the island's national symbol.
The stamps were launched on Wednesday and show eight different versions of the Three Legs of Man.
The symbol, which is often known as the triskele, is usually accompanied by the Latin motto Quocunque Jeceris Stabit.
A Post Office spokesman said although translations vary, the motto is generally taken to mean, "wheresoever you cast it, it will find its feet".
He added: "For upwards of a thousand years and probably more, the Three Legs of Man has been the symbol of Manxness yet the origin remains uncertain.
"In Ireland, stylistic spiral three legs were carved in stone in Neolithic times."