Isle of Man collects in Syria conflict appeal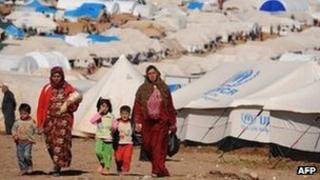 The Isle of Man is to take part in a nation-wide appeal to help people affected by the conflict in Syria.
Volunteers from Manx charity The One World Centre will raise funds with a series of collections over Easter.
The Disasters Emergency Committee (DEC) said more than five million people needed urgent humanitarian aid, with three million of those now homeless.
The DEC will use the money in Syria and neighbouring countries where more than one million refugees have fled.
Isle of Man collections will take place in Douglas, Ramsey, Castletown, Port Erin, and Peel. Anyone who can help is asked to contact the The One World Centre.
The DEC is an umbrella group of 14 UK aid charities which come together to tackle crisis situations.
It includes the British Red Cross, Islamic Relief, Oxfam and Save the Children.