Emergency timetable planned during Manx bus strike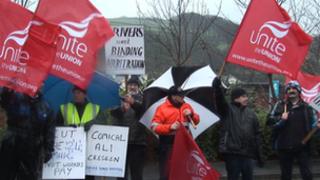 The government will operate an "emergency timetable" next week during the fifth bus strike on the Isle of Man since last December.
Bus drivers have voted for strike action in a long-running dispute over plans to introduce a £3,000 pay cut.
Bus Vannin drivers will stage two separate walkouts on 3 April, the Unite union confirmed.
A government spokesman said it will operate a Sunday timetable for those who use the buses to get to work.
He added: "It is safer and better for our passengers that we provide a set timetable that we know we can operate."
A Unite spokesman said drivers would hold stoppages from 07:30 to 09:30 GMT and from 15:00 to 17:00.
Bus Vannin, run by the community, culture and leisure department (DCCL), has been affected by government cuts.
The department is aiming to save about £1m a year as part of the Manx government attempts to rebalance its finances.
'No progress'
A series of cost-saving measures were implemented when the UK brought an end to a VAT sharing agreement, which left a hole of £75m a year in the island's income.
Bus Vannin drivers have already staged walkouts in December, January, February and March.
DCCL Minister Graham Cregeen said: "I am surprised by the timing of this strike given that the department outlined a possible solution to the dispute on 14 March which I know has been put to the union by the Industrial Relations Officer. The only response we have had is this notice of industrial action.
But Bobby Moore, from the Unite union, said relations between his organisation and the department have taken a turn for the worse.
He added: "Not only has no further progress been made we have actually gone backwards - I received a proposal [from the department] at the beginning of March which was brokered by the Manx Industrial Services which effectively would have ended the dispute - that offer was later withdrawn."
The government said bus time table for Wednesday will be published online.