International viola competition held in Isle of Man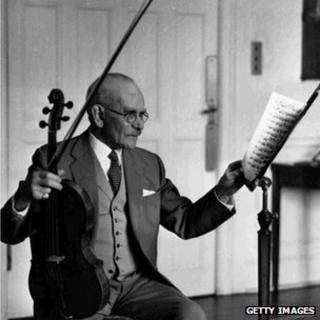 Dozens of the world's leading viola players will visit the Isle of Man this week for the Lionel Tertis International Viola Festival.
About 100 players from 26 different countries entered the week-long competition which is due to start at the Erin Arts Centre on Friday.
Less than half of those who entered have been selected to play.
Organiser Dr John Bethell said it was "an opportunity to see some of the finest players in the world".
He added that the Isle of Man event had "come along way since it began in 1980".
The viola is from the same family as the violin but is slightly larger and has a deeper sound.
The triennial competition is funded by the Tertis Foundation, which promotes the heritage of one of Britain's finest players, Lionel Tertis, who died in 1975 at the age of 98.
'Dearest wish'
The Foundation was set up by Mr Tertis's late widow Lillian, 10 years ago, to support aspiring players.
According to Dr Bethell it had been her "dearest wish" to see her husband's name and achievements remembered in a practical way by viola players.
The winner of this year's competition will receive a London recital through an engagement with the Philharmonic Orchestra and a share of the £15,000 prize fund.
In 2010, American Milena Pajaro-van de Stadt won the competition and has gone on to play with the Tokyo Philharmonic Orchestra.
The final will be held on Saturday, 23 March at 1900 GMT and will be judged by an international panel, chaired by professional viola player Brian Hawkins, a former head of strings at London's Royal College of Music.
Throughout the week a number of non-competitive master classes and public concerts will also he held at the Erin Arts Centre.