Laxey footballers injured: FA 'shocked and disappointed'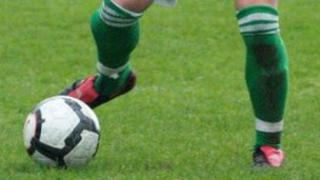 The Isle of Man Football Association has expressed its "shock and disappointment" after violence at a match led to four arrests.
Four men aged 21, 28, 29 and 55 were arrested and bailed after two players sustained serious facial injuries at a Premier League game.
The footballers were injured when violence broke out between Laxey and St John's at Glen Road on Saturday.
Ten players were booked and two sent off during the match.
An FA spokesman said: "The Isle of Man's Football Association would like to express its shock and disappointment regarding the alleged incidents that took place both during and after the game on Saturday."
'Disciplinary procedures'
The association said it would fully co-operate with police with their ongoing investigation before launching its own disciplinary procedures in line with the approved FA guidelines.
Chief executive Frank Stennett said: "We are working alongside the police and have commissioned further reports from officials at the match."
He added that "violence in Manx football is very much a rarity".
Police said, despite the arrests, the investigation was ongoing.
Sgt Andy Kneen said: "Police would like to speak to anyone who witnessed an on-the-ball incident at the start of the second half, in the St John's goalmouth, which resulted in a St John's player being substituted."
Police are also investigating an incident on the pitch after the game concluded.
Laxey, who are second in the league, won the match over fourth placed St John's, 3-2.