Lewis Chessmen: British Museum thanked for loan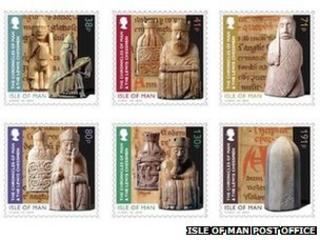 Manx National Heritage (MNH) have expressed their "extreme gratitude" to the British Museum for the loan of the ancient Lewis Chessmen.
The 12th Century chess set, made out of elaborately worked walrus ivory and whale teeth, has been on display in the Manx museum since November.
MNH director Edmond Southworth said they have proved a "popular attraction".
The chess set was discovered in 1831 on the west coast of the Isle of Lewis.
Part of Manx National Heritage's Forgotten Kingdom exhibition, the display is open until 9 March.
Mr Southworth presented the British Museum's Naomi Speakman with a unique set of stamps, which feature the medieval chess set, to thank them for the six-month loan.
'Iconic survivors'
"We are extremely grateful," he added.
The British Museum's curator of Late Medieval Europe, Naomi Speakman said they are "iconic survivors from the 12th century and provide a gateway into the medieval world".
The pieces are believed to have been made around 1200AD in Norway.
The exhibition explores the Kingdom of Man and the Isles between 1100-1300AD, a period when the island was at the centre of the maritime kingdom.
As well as the chess men it features the Chronicles of the Kings of Man, an historic manuscript believed to be the island's first ever story book.
The manuscript, which also dates back to the 12th Century, is the earliest written account of the island and documents many of the most significant events of the medieval age.