Two Isle of Man Legislative Council members retire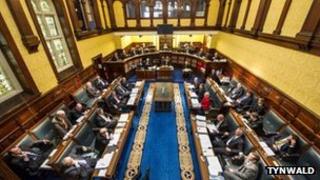 Two members of the Isle of Man's Legislative Council have retired, ahead of an election at a special sitting of the House of Keys on 18 March.
David Callister and Eddie Lowey have stepped down, whereas Juan Turner and Tony Wild - also at the end of their tenure - will stand for re-election.
Each election candidate must have the support of at least 13 members of the House of Keys (MHK) to be elected.
The Legislative Council is the upper Branch of Tynwald and has 11 members.
Those members include eight elected members, the President of Tynwald, the Bishop of Sodor and Man and the Attorney General.
Although members of the public can attend the sittings when voting takes place, they are not actually allowed to take part in the voting process.
The Legislative Council primarily acts as a revising chamber for bills and each candidate in the March election must initially be nominated by a member of the House of Keys.
David Callister has served on the Legislative Council since 2008 and Eddie Lowey since 1982.