Isle of Man prisoners 'making own alcohol'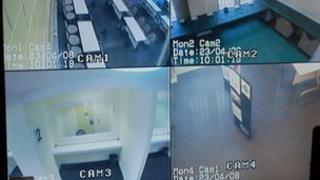 Prisoners in the Isle of Man's jail have been making their own alcohol, according to the home affairs minister.
In the House of Keys on Tuesday, Juan Watterson said about 50 litres of home-made alcohol has been recovered on prison grounds since July 2012.
Jurby prison opened in 2008 and can accommodate about 130 prisoners.
Mr Watterson said: "We have a specialist dog which can detect illicit alcohol and over 50 litres have been uncovered since July last year."
In some cases, illicit alcohol has been found in toilet cisterns.
The department of home affairs added that 40% (34 out of 85) of Manx prisoners are currently serving sentences for drug-related offences, and about 2.5% (2 out of 85) are serving sentences for alcohol associated crimes.
When Jurby prison opened the then home affairs minister said he hoped the new building would design out undesirable behaviour.
Adrian Earnshaw said: "One of my ambitions is to reduce rates of recidivism, and this is the first brick in the wall regarding that, with the increased opportunities available."