Isle of Man bus drivers plan further strikes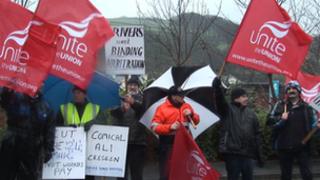 Further bus strikes are planned over an ongoing dispute between drivers and the Isle of Man government, the Unite union has confirmed.
The announcement came after drivers met union bosses on Monday, to discuss the latest chapter in a dispute over pay and conditions.
So far drivers have held three strikes since December.
The Manx government said it had hoped latest negotiations would have led to the dispute being call
Bobby Moreton, of Unite, said: "There will definitely be more strikes, and drivers are looking to escalate action."
He added he was disappointed with the turn out at Monday's meeting which was attended by less that 50 per cent of drivers.
He said: "It was the first time the company has refused to release drivers which appears to be an escalation of their action."
Last month, 56 of 79 drivers voted against a government deal to end the dispute.
The Manx government had hoped its latest proposals would rule out further industrial action.
Community, Culture and Leisure minister Graham Cregeen said the union had recommended the acceptance of its latest proposals to members.
He said: "We were hopeful the dispute could have come to an end - unfortunately that hasn't happened."
Bus Vannin drivers had already staged walk-outs in December, January and February over new measures, including a £3,000 pay cut.