Sheep warning for Isle of Man dog owners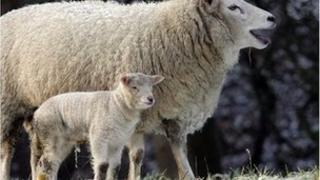 Isle of Man dog owners whose animals disturb livestock during the lambing season have been warned they could face legal action or compensation claims.
A government spokesman said penalties could be severe if sheep farmers chose to take action after a dog attack.
The warning, from the agriculture department, applies during lambing season, between March and June.
MHK Brenda Cannell said: "Any dog is capable of causing serious injury or death to pregnant ewes."
She added: "Last year saw some very serious and well-publicised incidents of sheep worrying. Farmers have the right to take action to protect their livestock in the event of dogs straying."
Dog owners are also being asked to keep dogs on a lead when walking in nature reserves.
Mrs Cannell said: "In areas such as the uplands and the Ayres National Nature Reserve, unleashed dogs can disturb ground-nesting birds, often leading to nest failure."