Key Isle of Man route set for £4m road works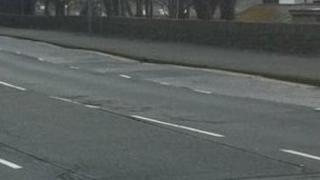 A key route into the capital of the Isle of Man is set for a major overhaul costing more than £4m, if proposals are approved in Tynwald.
The work, which would begin in March, would take place between Quarter Bridge roundabout and Circular Road in Douglas.
It would be the biggest road improvement scheme on the island since Richmond Hill in 2010.
Director of Highways Richard Pearson said a decision will be made next week.
He added: "Obviously if we don't get approval the road will remain one of the worst on the Isle of Man in terms of drive quality.
"Also the drainage issues which are down there at the moment will also persist and we will have to do short-term repairs which will be poor value because they are unlikely to last."
Traffic restrictions
The proposals include the total reconstruction of the carriageway and footpaths in the area as well as work to strengthen Pulrose bridge.
The scheme could take as long as 80 weeks to complete and would involve restrictions for motorists travelling into and leaving the town.
Mr Pearson said: "There will be limited disruption for traffic coming in to Douglas, it's possible that may even flow better than it does now, however, coming out of town, traffic will be diverted down Pulrose road and on to New Castletown Road and I can envisage a bit more disruption there."
The total cost involved in the Douglas road scheme is £4.3m, according to a department spokesman, who added that access to all businesses in the area will be maintained throughout.