Isle of Man work permit exemption proposed for teachers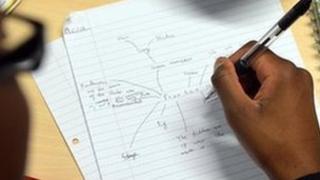 Secondary school teachers will be added to a list of professions exempt from needing an Isle of Man work permit if a new bill is approved.
The move follows growing recruitment issues in core subjects including Maths, English and Science.
Economic Development minister John Shimmin said the move is in the "island's best interests."
According to government statistics 383 teachers are employed in secondary education with 32 vacancies.
If the bill is approved in Tynwald this month teachers will join the likes of doctors and dentists, who are already exempt.
The proposal follows a consultation which included the views of the island's secondary school teachers.
'No Manx applications'
Head teacher at Ballakermeen High School, Adrienne Bernett said she fully supported the move.
She said: "In the past year we have had vacancies in science and English where we received no Manx applications whatsoever".
"It is expensive to recruit and this move could really speed up the process."
Andy Stewart, of the Department of Economic Development, said it had "not been a quick decision".
He said: "There is an acute shortage of qualified Manx teachers in the core subjects and when the island is competing against UK schools for the best talent this hurdle needed removing.
"Given that there is no evidence of a significant number of unemployed secondary school teachers who are Isle of Man workers, this proposed exemption should not adversely affect local teachers."
He added: "In 99% of cases if an appropriately qualified Manx teacher applied for a post they would be chosen."
According to the government the recruitment issue is confined to secondary school teachers and not primary school teachers.