Dementia event to act as launch pad for awareness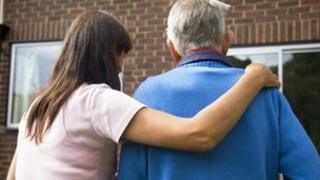 The success of a dementia event will act as a launch pad to raise awareness of the condition, a Manx politician has said.
Last week, more than 600 people attended the government's first dementia care awareness day in Douglas.
Political member for mental health Leonard Singer MHK said its success demonstrated how the lives of sufferers can be improved.
Around 1,000 people are living with the condition on the Isle of Man.
But if the island follows the UK trend, that number will double over the next 40 years, according to consultant psychiatrist Dr Chris Jagus.
Dr Jagus said: "People live longer so instances will rise, it's inevitable.
"Things are going to get busier and dementia is very expensive so we need to work out a way to invest which will reduce costs in the long term.
"If someone has the right kind of support in place, they may not need as much input from, for example, the social care system."
Social Care Minister Chris Robertshaw, said: "It was an extremely successful event and I would like to thank the speakers who gave up their time to give an invaluable insight into dementia."
During the day a number of leading experts delivered talks and workshops looking at various aspects of dementia.
There are around 820,000 people in the UK with the condition.