Isle of Man dementia cases rise 'inevitable'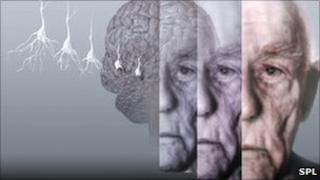 A rise in the number of people suffering from dementia in the Isle of Man is "inevitable", according to a consultant psychiatrist.
Dr Chris Jagus, of the mental health service, said there needs to be more awareness of the condition in advance.
There are about 1000 people with the condition locally, but if the island follows the UK trend, that number will double over the next 40 years.
"People live longer so instances will rise, it's inevitable," Dr Jagus said.
"Things are going to get busier and dementia is very expensive so we need to work out a way to invest which will reduce costs in the long term.
"If someone has the right kind of support in place, they may not need as much input from, for example, the social care system."
Dr Jagus was talking at a Dementia Awareness day at the Villa Marina in Douglas, organised by the government.
"I think there is a perception that dementia is an inevitable part of the ageing process and there is nothing you can do about it," he explained.
"We now know that is not true - it can be assessed, diagnosed and treated.
"There is a lot that can be done to find ways to help people to live full lives, that is something we can all take a part in, across the community."