Ramsey Cottage Hospital receives new £60k ambulance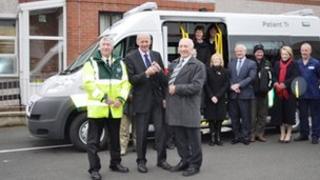 A patient transfer ambulance, costing around £60,000, has been donated to the Ramsey Cottage Hospital.
The vehicle, donated by the charity Ramsey League of Friends, can carry seven passengers and two wheelchairs.
League of Friends' secretary Sharon Quayle said it will "free up the Ambulance Service's own vehicles to respond to emergency calls".
The money was raised from bequests, individual supporters and charitable donations.
According to the hospital the ambulance is equipped with a defibrillator, LUCAS chest compression equipment, oxygen supply and can carry an incubator.
Health minister David Anderson thanked the charity for their "very generous donation".