Isle of Man health service 'failing' over waiting lists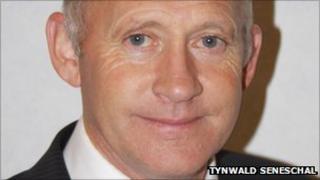 The health service is failing Isle of Man residents over "unacceptably long" waiting lists, a politician has said.
In the January sitting of Tynwald, Middle MHK Howard Quayle said some people on the island were having to wait years for a hospital appointment.
Health Minister David Anderson said he was aware there were problems in some areas but progress was being made.
Recent hospital figures show the average waiting time across all 19 departments to be about eight months.
While breast surgery patients are seen in less than a month, patients waiting for a pain management appointment can expect to wait years.
Mr Anderson said: "If people are in pain they need to see their GP who will communicate with the hospital about whether the patient needs a more urgent appointment."
'Ageing population'
The problem, added Mr Anderson, is down to an ageing population and higher expectations.
"Some of the procedures available on the NHS are extremely complex, there are people having knees, hips and ankles replaced - these are things we wouldn't have been able to dream about in the past.
"As the field of healthcare continues to advance with new treatments and new drugs, the pressure continues to increase."
A government review into waiting lists is currently under way and a presentation is expected in Tynwald later this year.