Port St Mary Town Hall after update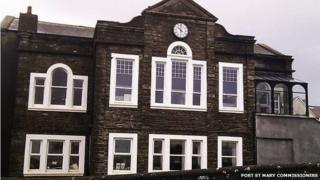 Port St Mary Town Hall in the Isle of Man has reopened after almost a decade.
Thousands of pounds have been spent by Port St Mary commissioners to bring the facility up to date, including the installation of a lift and new stage.
Chairwoman of Port St May commissionaires Bernadette McCabe said: "We hope the town hall will be the heart beat of the community".
As part of the makeover the building received its first clocks in its 114 year history.
She said: "We are thrilled to be reopening the building. Everyone in the village has memories from their childhood there and now there will be a new generation who can add to them."
'Bad state'
Three clocks were donated by Henry Goldsmith, a former resident.
Mr Goldsmith said the "clocks were to thank the people of the Isle of Man and Port St Mary in particular, who have been very good to me over the years".
Daleen Greenwood of Port St Mary commissioners said: "The building has been closed since 2003 when plaster started falling off the roof.
"It had fallen into a bad state of disrepair but everyone has been working hard to transform it."
The first public meeting was held in the building in 1899 during which the building of a sea wall was discussed on the lower promenade.