Manx Electric Railway service disrupted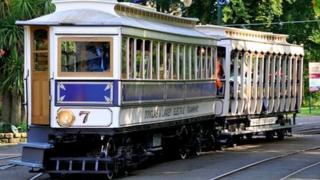 Passengers on the Manx Electric Railway face 'temporary amendments' to the service after part of the track was damaged by recent bad weather.
The trams will be replaced by a shuttle bus service between Baldrine and Laxey, while repairs are carried out.
A spokesman said: "A recent period of severe rain has caused damage to part of a culvert underneath a section of track just up from Ballabeg Station."
The service connects the towns of Douglas, Laxey and Ramsey.
From Tuesday all northbound trams will terminate at Baldrine, where passengers can use a shuttle bus to Laxey. From Laxey they can connect with the Snaefell Mountain Railway or take a tram to Ramsey.
All southbound trams will run from Ramsey to Laxey as normal. From there passengers can board the waiting shuttle bus to continue their journey south.
The Manx Electric Railway, was built between 1893 and 1899.