London 2012: Cavendish could earn first 'Gold stamp'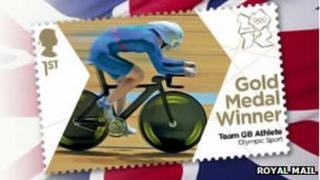 World road race champion Mark Cavendish could be the first British athlete to be honoured with a Royal Mail 'Gold Medal' stamp.
The Royal Mail will be producing the stamps to commemorate each British gold medal winner at the London Olympics.
The Isle of Man cyclist is Britain's first medal hope in the men's road race on the 27 July.
The special edition stamps will be available 24 hours after the medal is won.
The 27-year-old told BBC Isle of Man earlier this year that a gold medal at the Olympics would "complete his set", having already won the Tour de France green jersey along with gold medals at the World, European, Commonwealth Games and British championships.
'Only one missing'
Cavendish said: "It's the only thing missing from my list now. I've won countless gold medals and the Olympics is the only one missing. It will be great to try and do that in London.
"It's a course that doesn't suit us but we can win on there and it will be exciting to try and do that.
"It's going to be difficult with only six riders in the team but it is the same for every country," he added.
The stamps will feature, wherever possible, photographs of the Team GB athlete or team in action from their gold medal winning final.
A Royal Mail spokesman said: "It will be the first time a host country has used action shots for Gold Medal stamps and the first time we have issued next day stamps.
Royal Mail will have just 24 hours to design and print each Gold Medal stamp and then deliver them to Post Offices across the country.
The stamps will be available in more than 500 Post Offices across the UK but not in the Isle of Man, where Mr Cavendish is from.
The Royal Mail said Manx residents could purchase the stamps.