Huge crowds attend Viking Longboat World Championships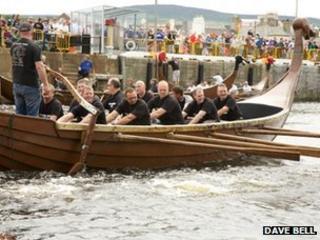 Hundreds of people attended the 49th Viking Longboat World Championship in the Isle of Man at the weekend.
Farghers Lift Men completed the 500m time trial in 2 minutes 27.48 seconds to be crowned World Champions ahead of 72 other teams.
Peel Viking Longboats chairman Nigel Rawlinson said: "The weather gods were smiling on us and it was a fantastic spectacle to watch in the sunshine."
Some 730 people took part in the Peel races in teams of 10.
Eastern Young Farmers won the ladies title in 3 minutes 12.60 seconds and Raven Raiders won the mixed race in 2 minutes 38.55 seconds.
'50th anniversary'
Every crew member is required to row using an 11ft (3.3m) oar for the duration of the race.
Mr Rawlinson added: "We have had so many teams register this year that we've had a waiting list.
"It's the 50th anniversary of the races next year so we have to make it even better."
Last year's times were used to issue a handicap system for this year's races.
Every team has completed at least two practice runs in preparation for the event, which was first held in 1963.